About ATMdepot.Com – one of a few select ATM Companies.
ATMdepot.com is the brainchild of industry expert Noah Wieder. Noah began in the ATM industry in 1992 with the introduction of the scrip machine and the Tidel Anycard tube machines. Since then, the industry has grow and matured allowing even the smallest of retail merchants to benefit from offering customers a virtual bank with access to cash. We all know cash is king.
These days, more people get there daily spending money from an ATM than from a bank teller.
Customers enjoy our direct approach . Listen to one of our loyal customers.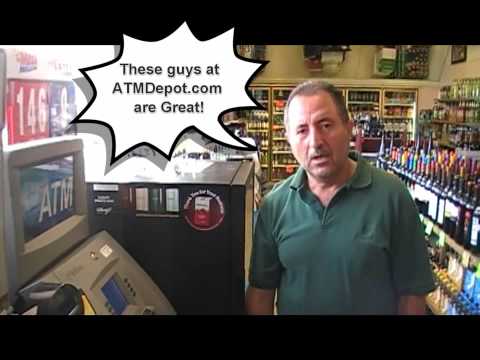 At ATMdepot.com, we know and understand the various options that banks and retail merchants have when choosing between ATM companies. Originally, ATM Companies felt that retailers would rather work with local independent sales agent that represented the ATM companies services similar to the credit card processing industry. Well, over time, we realized that merchants and financial institutions need a better option.
The problem was sales agents come and go. Many of them were just not familiar with the ATM Machine business and they "wing it". They end up make promises they cannot keep or unintentionally misrepresented the ATM companies they work for — without even knowing it.
Retailers ended up signing crazy long-term agreements which were sold like commodities. Then, all of a sudden, Merchants didn't know who to call for help when they had a problem with their ATM Machine.
ATMdepot.com shows you there is no magic to the ATM business and removes all the uncertainty. Merchants, Financial institutions, ATM Owners, ATM Business Opportunity Seekers, and ATM Investors now work directly with us. No middle man, no salesperson. Simply Pick up the phone or shoot us an email and get the facts from industry professionals with over two decades in the ATM business.
We welcome your questions, comments and requests for ATM services. Contact-Us